Concrete Pool Deck Repair by Adirondack Basement Systems
Fix uneven concrete around your pool in Albany & nearby
Do you have settling concrete surrounding your pool? If you've noticed a hazardous uneven surface surrounding your pool, it's crucial to get it fixed as soon as possible to prevent injury.
The concrete repair professionals at Adirondack Basement Systems have the experience and tools required to seamlessly complete pool deck repairs and restore the safety of your outdoor oasis.
We offer concrete lifting and leveling using the industry-leading PolyLevel® system, which is more efficient and cost-effective than replacing it. It's also a superior option to pool deck resurfacing.
Reach out to Adirondack Basement Systems at 1-844-307-6626 or click below to schedule a free pool deck inspection! We proudly serve Troy, Schenectady, Saratoga Springs, and nearby.
---
Reasons your pool deck is sinking
Oftentimes, concrete pool decks settle because of the pool construction process. The backfill soil that's added around the pool excavation will not be as dense or well-compacted as the undisturbed soil. When a heavy concrete slab is poured around the pool, loose soil will often compress under the slab's weight, causing sections of the concrete to sink or settle.
---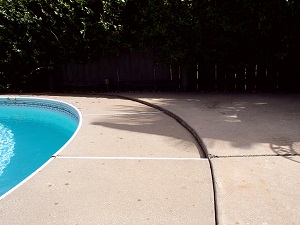 Restore your pool deck with PolyLevel®
Some contractors still use the old-school repair for settled concrete. They use heavy equipment to demolish the cracked, settled sections of concrete around your swimming pool, and pour a new concrete deck. With concrete replacement you often get a damaged yard and a pool that's off limits until the new concrete hardens and cures. Our concrete leveling method saves you time and money, and won't disrupt your landscaping.
Injecting PolyLevel expanding foam beneath a settled pool deck will raise the concrete back to proper level and also strengthen the soil so that the problem won't recur.
---
We use PolyLevel® to fix your sunken pool deck
PolyLevel is a high-density expanding foam that our technicians can use to raise settled concrete. The two-part polyurethane foam mixture is injected through small holes drilled in the settled concrete. Our installers are trained to control the injection process so that just enough foam is used to re-level the concrete deck. Because the foam's expanding action fills voids in loose soil, this concrete leveling technique improves the soil's stability and load-bearing characteristics. You can feel confident that settlement won't occur again.
---
Schedule a free pool deck repair estimate in Schenectady!
Don't wait another day to repair your pool deck in Greater Albany. Eliminate tripping hazards surrounding your pool deck with the experts at Adirondack Basement Systems. Our concrete repair specialists have successfully raised and restored hundreds of pool decks in Albany, Schenectady, Troy, Saratoga Springs, Cohoes, Colonie, Clifton Park, Guilderland, Latham, Queensbury, and throughout New York.
Plus, we offer free, no-obligation pool deck repair estimates. Contact us today to schedule yours!
Looking for a price? Get a no cost, no obligation free estimate.