Effective Concrete Sidewalk Leveling & Repair in New York
Do you have a cracked or sinking concrete sidewalk? Not only do damaged sidewalks and walkways look bad, but they can also lead to injury if not repaired in a timely fashion. Luckily, concrete doesn't have to be torn out and poured again. Adirondack Basement Systems offers reliable concrete leveling to raise your sidewalk and prevent it from sinking more. We will restore your concrete with PolyLevel® in just 15 minutes!
Do you want to improve the safety of your sidewalk? Get in touch with us today at 1-844-307-6626 or complete the provided form to schedule a free concrete leveling estimate in Albany, Schenectady, Troy, and nearby.
Reasons for cracked and sinking walkways
Sidewalks and walkways are frequently traveled on, so it's no surprise that they become damaged every once in a while. Concrete can crack and sink when the soil underneath becomes weak. Voids underneath your concrete slabs are caused by erosion from gutter runoff or rainwater. Another possible explanation for voids is a rotted tree root. Dirt fill underneath the slab that has not been well compacted can also create voids beneath the concrete. Regardless of what's caused your sidewalk to sink, we can fix it!
---
Concrete sidewalk leveling before & after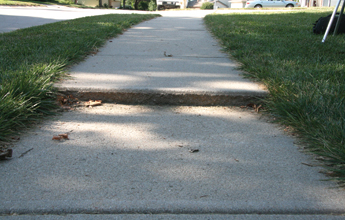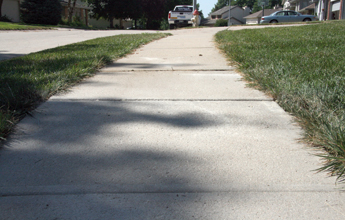 Look familiar? The sidewalk in front of this home settled a couple inches, creating a trip hazard and an area for water to pool. After raising the slab with PolyLevel®, we were able to turn the sunken sidewalk into a safe, level surface.
---
How we restore sidewalks with concrete lifting
Some areas require home and business owners to maintain the sidewalks adjoining their property. If someone trips and falls on the sidewalk in front of your home, you might be liable. It's important to check your town or city's sidewalk regulations.
Concrete lifting with PolyLevel® is a practical, affordable solution for concrete sidewalk repair. In addition to taking less time and costing you less, concrete leveling is far less disruptive to the landscaping. If the concrete is ripped out and repoured, the grass can be damaged from the heavy equipment and the removal of the old slab. With PolyLevel® injection lifting, there's almost no waiting for the concrete to cure before you can walk on it. With concrete replacement, it usually takes about a day for the concrete to cure.
Contact the concrete repair specialists at Adirondack Basement Systems today to get a free estimate to raise your sunken sidewalk. We offer concrete lifting and leveling services in Albany, Schenectady, Troy, Saratoga Springs, Cohoes, Colonie, Clifton Park, Guilderland, Latham, Queensbury and nearby.
Looking for a price? Get a no cost, no obligation free estimate.